The Clarendon Courthouse corridor is one of the Washington area's most desirable places to live. It has the perfect balance of beautiful residential neighborhoods, easy access to retail and restaurants, and one of the shortest commute times in to the city that you will find anywhere. You can walk 10-15 minutes and be in the heart of Georgetown or you can easily hop on a bicycle, a scooter, or the metro to get just about anywhere in the DC area. However, despite its close proximity to the city, it maintains beautiful parks and walking paths, playgrounds and dog parks, coffee shops and unique small businesses, and a wonderful community charm. In short, the Clarendon community is the perfect place to live.  Whether you are just starting out in your first apartment, growing a family in a single family home, or enjoying retirement- there is truly something for everyone.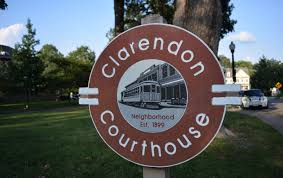 There are 5 large condo buildings in the Clarendon Courthouse area and a plethora of town homes and single family homes, divided into 4 distinct neighborhoods:
Each of these 4 neighborhoods maintains their own civic association and the civic association leaders serve as members of the Clarendon Alliance Board.
Arlington County public schools are consistently ranked as some of the best in the country. For more information on about schools, please visit Arlington Public Schools
Walk, ride, bike, or scoot... there are so many ways to get where you're going in Clarendon.
Family Friendly Activities
Clarendon has a variety of fun kids' activities throughout the year.  Residents and visitors alike are sure to find something for everyone!
Clarendon and Courthouse are a pet owner's dream! There are two outstanding veterinarian clinics, one of the nicest dog parks you will find anywhere, pet friendly business owners who leave out dog bowls and treats, and a small local pet store with everything you need. Clarendon Animal Care hosts a "Bark in the Park" event in early June and Market Common hosts a series of fun events with animals throughout the year, including the beloved dog Halloween costume contest.
Veterinarians
Clarendon Animal Care
Not only does this outstanding clinic care for all kinds of pets but they also host the annual Bark in the Park event every June. Follow them on Facebook and you will be hard pressed not to smile every time they post a great picture of their clients!
Dog Park
James Hunter Dog Park on Herndon Steet is the shangri la of dog parks, with plenty of outdoor space to run and a fountain to cool off in during the dog days of summer.