CLARENDON: A RICH HISTORY
The vibrant neighborhood we now know as Clarendon has long established roots in Virginia's history. The Clarendon community has its roots in the colonial era, when land grants were issued to William Strutfeld in 1709 and James Robertson in 1729. The earliest vestiges of Wilson Boulevard developed as the "road to the ferry" run by Francis Awbry in 1742. Clarendon grew slowly through the 1700s and 1800s, mostly dominated by farmland until 1900. Cows belonging to the Arlington Dairy Company were still grazing Whalen's Field (between present day Franklin Road and Hudson Street) as late as the 1950s!
Clarendon began as territory for a number of prominent land owners. George Mason, one of America's founding fathers, and his son John owned much of what is now lower Clarendon until 1830. Robert Cruitt purchased over 400 acres in 1847 for the low price of $1698.93 on September 28, 1847. Cruitt's home, which still stands today, was used as a hospital during the Civil War and later as a dairy farm. Twenty-five acres of Cruitt's land was sold to Mary Nesmith for $25 an acre ($625 total) in 1897, which she sold only two years later for $8000. Robert Treat Pain, a man who would greatly impact Clarendon in the future, bought those 25 acres in 1900.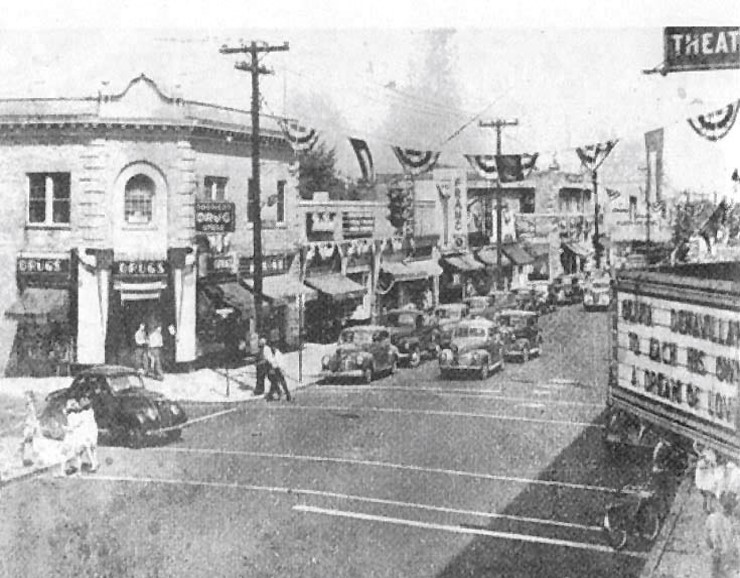 During the Civil War, much of Northern Virginia (and all of Arlington County) was occupied by Union troops as a buffer zone between the Confederacy and the Union capital of Washington, D.C. Virginia seceded in April of 1861. On May 24, the first Union troops, under Major W.H. Wood crossed the river into Virginia and camped near present-day Clarendon. The manned hot-air balloon for military observation was first undertaken by Thaddeus S.C. Lowe, who organized an Aeronautical Corps in the U.S. Army. During the summer of 1861, he made several ascensions with a balloon Ball's Crossroads (present-day Ballston, near Glebe Road and Wilson Boulevard) to observe Confederate positions in nearby Fairfax.
On March 31, 1900, the "Town of Clarendon" was officially dedicated, the name possibly originating from Robert Treat Pain's old street in Boston, Clarendon Avenue. A parade featuring five local Volunteer Fire Departments was held to commemorate the monumental event. A real estate firm began advertising the lots for sale at $90 to $140, for $2 down payment and a dollar a week without interest. To further attract people to the Clarendon area, they offered free trolley rides to and from D.C. for a full year to the first 50 purchasers. This deal sold out so quickly that in ten years, five "Additions to Clarendon" had already been platted. The introduction of Clarendon's own trolley train station (introduced in 1904 and shut down in 1935) lured in even more residents, and by 1920 the town had over 2000 residents.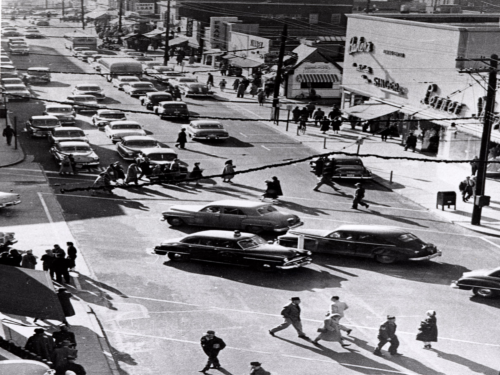 Clarendon's later developers were very particular about their houses and land. Many included stipulations in their wills to prevent what they considered distasteful occupants or businesses from disrupting the sanctity of their property. Frank Lyon, in true 1920s Prohibitionist style, stipulated that "no liquor shall be sold, dispensed, used, stored on the property, nor in any building thereon, and the property may not be used for the conduct of any business which is deemed a nuisance". Will Grafton, for reasons unknown, specifically restricted soap manufacturing. The Brumback family owned small, Spanish style homes which are still standing today.
This small community grew rapidly in the early 1900s, as prices for acres, which had sold for $90 in 1915, skyrocketed to $285,000 by 1985. In 1913 gas, water, and electricity was made available for all Clarendon residents, and by 1914 Clarendon was one of the first counties in the nation to have zoning regulations.
Aside from its popularity as a residential area, Clarendon also gained its title as Arlington's "downtown" area in the early 1900s. By 1920 there were three general stores, numerous specialty shops (including a bakery, hat shop, and Boyers' Pharmacy) and more than ten restaurants. Clarendon was home to the first oyster bar in the country and the first Masonic Lodge in Arlington. The Clarendon Bank, a famous landmark, opened in 1920 and remained until shut down for development in 1974. Some other noteworthy commercial landmarks include Joyce Motors(which sold gas at 2 cents a gallon to firefighters in the 1940s), Kirby's Garage(known for its art deco structure), Hurt Cleaners(a notoriously seedy pool hall in the 30s), and the "telephone company"(where Merton E. Church established an early switchboard). Clarendon was a popular shopping center in the 50s as well.
Another famous landmark is the War Memorial, which began as a plain white cross in 1919 to honor American victims of World War I. In 1931 it was replaced by a stone column, but the new monument kept being damaged by out-of-control cars, so it was rebuilt in Courthouse as three level structure with Civil War cannons, and large stone eagle, and a bell.
In 1937, the opening of the Main Arlington Post Office in Clarendon made a stir throughout the county. It symbolized the unification of Arlington as all the small community post offices were consolidated to this one general office. Until 1937, all Arlington's mail was handled in Washington, D.C.. The post office is now a historic landmark. Around the same time, the New Deal's WPA(Works Progress Administration) also painted a number of famous murals as a beautification project for the Clarendon area.
Clarendon continued to boom until the 1960s, when the introduction of large shopping malls began to steal business from the area. In the 1960s and 70s, as Clarendon declined, many ethnic groups moved in and revitalized the flagging urban center, which consequently gained the nickname "Little Saigon". This lifestyle continued about 15 years until Clarendon was connected to the Metro, which brought in high-rise construction. Clarendon is still in the process of its century-old transformation, with an ever evolving combination of new restaurants, well known national stores, small eclectic businesses, and residential homes. With its unique character, walkability, and charm, we know Clarendon will remain Arlington's downtown center for years to come.